For members
EXPLAINED: Why Austria won't allow Ukraine's Zelensky to speak before parliament
A proposal by liberal party NEOS to invite Ukraine's President Volodymyr Zelensky to make a speech to the Austrian parliament has brought back old neutrality feuds.
Published: 24 March 2022 10:18 CET
Updated: 9 April 2022 11:09 CEST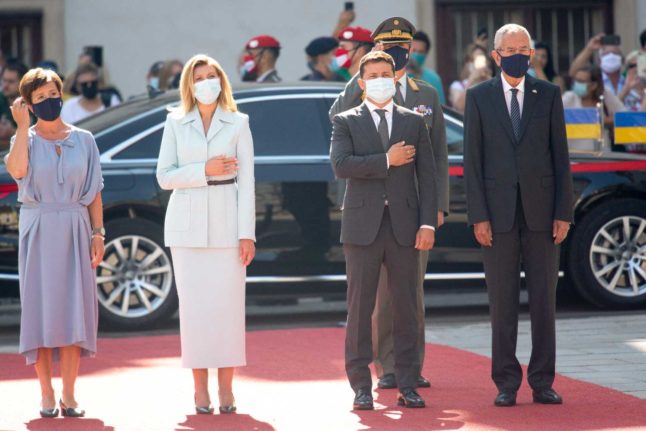 Austrian President Alexander Van Der Bellen (R) and his wife Doris Schmidauer (L) and Ukrainian President Volodymyr Zelensky (2ndR) and his wife Olena Zelenska (2ndL) listen to the national anthems in Vienna, Austria on September 15, 2020, during a welcoming ceremony at the beginning of Zelensky's state visit. Photo: JOE KLAMAR / AFP
Rapping, breakdancing Ukrainians win Eurovision in musical morale boost
Ukraine won the Eurovision Song Contest Sunday with an infectious hip-hop folk melody, boosting spirits in the embattled nation fighting off a Russian invasion that has killed thousands and displaced millions of people.
Published: 15 May 2022 08:42 CEST