Every year, from mid-November until Christmas time, the streets of Vienna are packed with people admiring the festive decorations. In particular, the Christmas markets, known in Austria as Christkindlmärkte, are a major attraction. 
Mulled wine (Glühwein), punch, roasted walnuts and other tasty food and beverages will be prepared in the many markets all over the Austrian capital. The City of Vienna has confirmed the details and opening dates for the official Xmas markets, which this year includes new ones, such as the Ottakringer Weihnachtszauber at the Ottakringer brewery, plus a market in the 21st district.
READ ALSO: Reader question: Is travelling to Austria this winter worth it?
Here's what you need to know about the Christmas Markets, some of which will open this Friday, November 11th.
Viennese Christmas Market on City Hall Square
Wiener Christkindlmarkt auf dem Rathausplatz
November 19 – December 26, 2022
10 am – 9.30 pm
December 24-26, 10 am – 6.30 pm
Rathausplatz, 1010 Vienna
Vienna Ice World at the Christmas Market (Eistraum am Christkindlmarkt:):
November 19, 2022 – January 8, 2023, daily from 10.00 am – 10.00 pm
December 24, 10 am – 6.30 pm; December 31, closed
Christmas Village on Maria-Theresien-Platz
(Weihnachtsdorf Maria-Theresien-Platz)
November 16 – December 26, 2022
Su-Th 11 am – 9 pm, Fr & Sa 11.00 am – 10.00 pm
December 24, 11 am – 4.00 pm
December 25+26, 11 am – 7 pm
Maria-Theresien-Platz, 1010 Vienna
Christmas Village at Belvedere Palace
(Weihnachtsdorf Schloss Belvedere)
November 18 – December 26, 2022
Mo-Fr 11 am – 9 pm, 10 am – 9 pm
December 24, 11 am – 4 pm
December 25+26, 11 am – 7 pm
Prinz-Eugen-Strasse 27, 1030 Vienna
Christmas Village on the University Campus
(Weihnachtsdorf am Campus der Universität Wien)
November 11 – December 23, 2022
Mo-We 2.00 pm – 10 pm, Th-Fr 2 pm – 11.00 pm
Sa 11.00 am – 11 pm, Su 11 am – 8.00 pm
Alserstrasse/Spitalgasse, Hof 1, 1090 Vienna
READ ALSO: Seven common myths about Austrian food you need to stop believing
Advent at Liechtenstein Garden Palace
(Advent im Gartenpalais Liechtenstein)
November 18 – December 23, 2022
Mo-Th 1.00 pm – 9 pm, Fr-Su 10 am – 9 pm
Fürstengasse 1, 1090 Vienna
Old Viennese Christmas Market on Freyung
(Altwiener Christkindlmarkt Freyung)
November 18 – December 23, 2022
Daily from 10 am – 9 pm
Freyung, 1010 Vienna
Christmas Market Am Hof
(Weihnachtsmarkt Am Hof)
November 11 – December 23, 2022
Mo-Th 11 am – 9 pm, Fr-Su & hols. 10 am – 9 pm, food until 10 pm
Am Hof, 1010 Vienna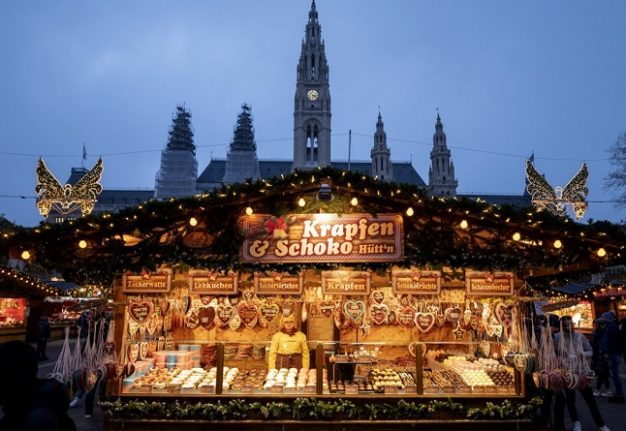 A ginger bread vendor waits for customers at the traditional annual Christmas Market outside of Vienna's city hall in Vienna(Photo by JOE KLAMAR / AFP)
Christmas Market Schloss Schönbrunn
(Kultur- und Weihnachtsmarkt Schloss Schönbrunn)
November 19 – December 26, 2022
Daily from 10 am – 9 pm
December 24, 10 am – 4 pm, December 25+26, 10 am – 6 pm
Schönbrunn Palace, 1130 Vienna
New Years' Market (Neujahrsmarkt): December 27, 2022 – January 4, 2023, 10 am – 6 pm
READ ALSO: Autumn in Austria: Six destinations to add to your travel list
Art Advent – Art & Crafts on Karlsplatz
(Art Advent – Kunst & Handwerk am Karlsplatz)
November 18 – December 23, 2022
Daily from 12 noon – 8 pm, food until 9 pm
Karlsplatz, 1040 Vienna
Christmas Market on Spittelberg
(Weihnachtsmarkt am Spittelberg)
November 11 – December 23, 2022
Mo-Th 2 pm – 9 pm, Fr 2 pm – 9.30 pm
Sa 10 am – 9.30 pm, Su & hols. 10 am – 9 pm
Spittelberggasse, Stiftgasse, Schrankgasse, Gutenberggasse, 1070 Vienna
Christmas Market on Stephansplatz
(Weihnachtsdorf am Stephansplatz)
November 11 – December 12, 2022
Daily from 11 am – 9 pm
December 24, 11 am – 4.00 pm, December 25+26, 11 am – 7 pm
Stephansplatz, 1010 Vienna
Advent market at the Opera House
(Advent-Genussmarkt bei der Oper)
November 11 – December 31, 2022
Daily from 11 am – 9 pm
December 24 closed, 31 December 11.00 am – 2.00 am
Mahlerstrasse 6, 1010 Vienna
Winter Market on Riesenradplatz
(Wintermarkt am Riesenradplatz)
November 11, 2022 – January 8, 2023
Mo-Fr 12 noon – 10 pm
Sa, Su & hols. 11 am – 10 pm
December 24, 10 am – 5 pm, December 31, 12 noon – 2 am
Riesenradplatz, 1020 Vienna
Almadvent

November 18 – December 23, 2022
Mo-Sa 2 pm – 10 pm, Su 11 am – 9 pm (sales booths outdoors & craft parlour)
Gastro parlors: Mo-Sa 2 pm – 12 midnight, Su 11 am – 6.30 pm
Messeplatz 1, 1020 Vienna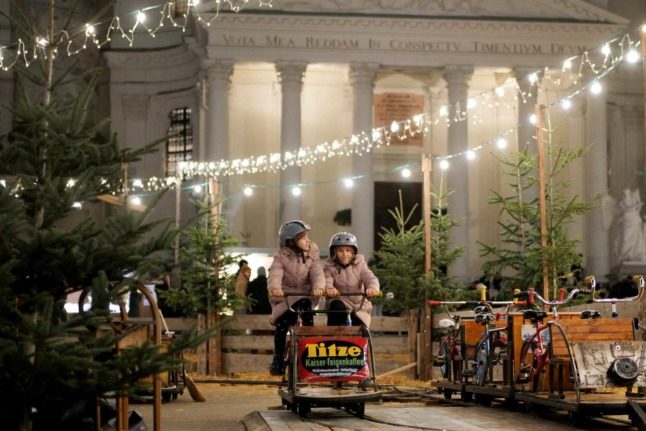 A Christmas market in Vienna. Image: JOE KLAMAR / AFP
Ottakringer Weihnachtszauber

November 24 – December 23, 2022
Th-Fr 3 pm – 10 pm, Sa 11 am – 10 pm, Su 11 am – 8 pm
Ottakringerplatz 1, 1160 Vienna
READ ALSO: How to celebrate Christmas like an Austrian
Adventmarkt Favoriten
November 11 – December 24
Daily 10 am – 8.30 pm, December 24th 10 am – 6 pm
Fußgängerzone Favoriten, 1100 Vienna
www.vzfm.at
Adventmarkt Meidling
November 11 – December 24
Daily 10 am – 8.30 pm, December 24th 10 am – 6 pm
Meidlinger Hauptstraße, 1120 Vienna
Weihnachtsmarkt im Park

November 11 – December 23
Mon-Fri: 3 pm-10 pm, Sat/Sun/Holiday 12 pm-10 pm
Türkenschanzpark, 1180 Vienna
www.weihnachtimpark.at
Adventmarkt Floridsdorf
November 11 – December 24
Daily 8 am – 9 pm, December 24th 10 am – 6 pm
Franz Jonas Platz