IN PICTURES: The best places to see snow in and around Vienna
If you are looking for snow in Austria, Vienna is definitely not the first place you should go, but when it snows, the capital can look absolutely beautiful. Here's where to go to get the best views.
Vienna is a surprising city when it comes to weather and snow.
You can spend a week in the city in December amid sub-zero temperatures but not see any snow at all  - something that often surprises foreigners from warmer countries who associate Austria with mountains and skiing.
But then when snow comes the sight of Vienna under a white blanket is a sight to behold - even if the locals (not us) don't seem to appreciate it.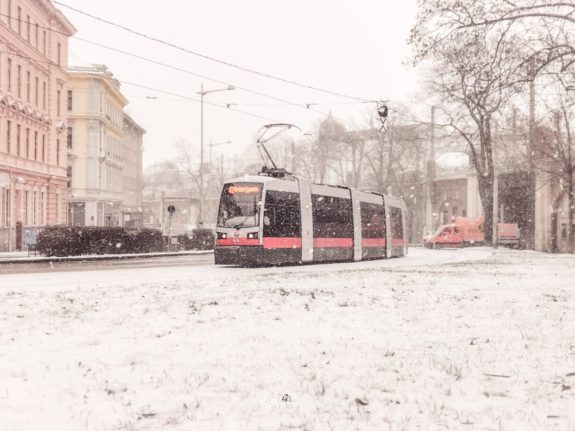 Austrians themselves love to hate the Viennese snow, joking that it is actually just "mud". The truth is, it really doesn't snow that often in the Austrian capital (the Hohe Warte measurement centre in Vienna recorded ten snow days in 2022, compared to 52 in Klagenfurt, 27 in Salzburg and 26 in Innsbruck). 
READ ALSO: Austria set for more snow as winter weather continues
It also doesn't snow that much: the winter of 2021/22 saw only 31 centimetres of fresh snow, something that could fall in a day in a ski resort in the Austrian Alps. 
However, when there is enough new snow to turn (parts of) the city white, certain areas are certainly better to explore than others.
It's a winter-ful life! ❄️ Who else spends Sunday as cuddled up as these ducks in front of the #Gloriette? 🦆

💛 #SchönbrunnWaitsForYou

📸 by https://t.co/zzBvLgkRjD #Schönbrunn #vienna #Wien #austria #winterwonderland #snowyday #Österreich pic.twitter.com/5tScsDkdZa

— Schönbrunn Palace (@schonbrunn) January 22, 2023
Classic touristic spots
If you want to see the Stephansdom or the Vienna Opera covered in snow, it would have to be a tremendous snowstorm, subzero temperatures and even better if the snow was still falling. This is because the city centre is heavily urbanised and the asphalt and streets are treated so that snow melts faster. 
The number of people walking by makes it harder to see that picture-perfect white snow. 
READ ALSO: Why Vienna is a haven for wild animals – and where you can find them
However, some classic tourist attractions are greener and, therefore, can become whiter more easily.
For example, the palaces and parks of Vienna look beautiful when it snows. Schönbrunn, with its hundreds of square meters of gardens (plus a fantastic panoramic view up from the Gloriette), is always a popular spot when the snow falls, just as Belvedere, Stadtpark, the park in front of Rathaus and Prater.
Snow in Vienna❄❄❄#Stadtpark🎻 pic.twitter.com/YMpgQJuepC

— Elfie Neuberger (@ElfieNeuberger) December 12, 2022
Best places to play around
If your dream is to slide down a snow hill or build a snowman, Vienna's many parks are the best places to go. Some beautiful examples in or around the city centre include Augarten, Prater, Schwarzenbergpark, Türkenschanzpark and Stadtpark. 
 

 

View this post on Instagram

 
By the outskirts, places like Roter Berg (you can check the video above) are very popular with kids, but even your small neighbourhood park might have great sledging spots, so don't be shy to ask your neighbours. 
READ ALSO: Six things to expect when you move to the Austrian mountains
Spots in the outskirts of Vienna
Other popular spots are in the Viennese surroundings or just a short drive away from the capital. 
For example, the official trails of the City of Vienna lead you to several nature spots with panoramic views and guaranteed beautiful snow.
The Stadtwanderweg 8 is one of the best, with an observation deck and awesome spots to slide down from. The Stadtwanderweg 4 and 4a lead you up to Gallitzinberg, almost an Alpine peak (ok, not so much, but still beautiful).
READ ALSO: The best spots to recharge on the weekend in Vienna
 

 

View this post on Instagram

 
Pictured is the view from Kahlenberg.
The mountains surrounding the city are also very popular, including Anninger, where you can walk through snowy forest paths and roads, and the very popular Schneeberg. Or, accessible via the city transport, the Kahlenberg.
Finally, a short trip leads you to spots such as Semmering (where the Viennese go for a quick ski trip) and the Rax, which you can go up via cable car. 
Primer dia de la temporada que Àustria semblava Àustria. Molt fred i bona neu!!! No hi ha res millor desprès d'un matí d'skimo que creuar el Semmering amb la ÖBB per tornar a Viena. Vaia viatge de somni! 🤩🤩🤩🥰 pic.twitter.com/3277hJKlNi

— Pere Gelabert (@peregx9) January 22, 2023
Above, pictures posted on Twitter of a trip to Semmering on a snowy day.
READ ALSO: Discover Austria: Five beautiful hikes and destinations south of Vienna
See Also