Today in Austria: A roundup of the latest news on Tuesday
Austria's greenhouse gas emissions were up, Vienna's famous Café Ritter could go bankrupt, changes in 'lost&found' laws and more news from Austria on Tuesday.
Austria's greenhouse gas emissions were up in 2021
Greenhouse gas emissions in Austria increased by 4.9 percent in the pandemic year 2021 compared to 2020, the broadcaster ORF reported citing figures released Monday by the Federal Environment Agency.
The Environment Ministry commented on the increase as "in line with expectations" as it confirmed the "pandemic effect". 
In absolute terms, 77.5 million metric tons of CO2 were emitted in Austria in 2021, 3.6 million metric tons more than in 2020. However, compared to the pre-pandemic year 2019, 2021 was only slightly lower - by 1.9 million metric tons. 
For 2022, however, the Federal Environment Agency expects a significant decrease of five percent compared to 2021. Compared with the pre-pandemic year 2019, this means a reduction in emissions of 7.9 percent.
"A lot is already on track, our many climate protection measures against the standstill of the last decades are already showing a first effect. But it is absolutely clear: We have not yet reached our goal. Especially for a climate-friendly future, we need more initiative for climate protection.", said Environment Minister Leonore Gewessler (Greens).
READ ALSO: Reader question: When will I get my 2023 Klimabonus payment in Austria?
Cycling in Austria: 7 rules you can be fined for breaking
The rules of the roads aren't just for motorists – they apply to cyclists too. To avoid being fined by the police, here's what you need to know about cycling in Austria.

Vienna's famous Café Ritter in Ottakring could go bankrupt
Café Ritter in Ottakring, which has existed since 1907, is insolvent again, the newspaper Die Presse reported. The Commercial Court of Vienna opened bankruptcy proceedings against the operating company on Monday. 
In February 2021, a restructuring procedure was opened as the traditional coffee house suffered amid the Covid-19 crisis. In April, a restructuring plan was accepted by creditors, which allowed the pub to continue operating. 
Now, the bankruptcy court needs to evaluate Café Ritter's liabilities and affected creditors to see if insolvency or a new restructuring would be necessary. Creditors can file claims until March 7th.
READ ALSO: Caffeine, war and Freud: A history of Vienna's iconic coffee houses
Changes in 'lost&found' laws
Austria is set to amend the law on lost and found property, ORF reported. In the case of objects with a "common value" of less than €100, the period to retrieve them will be reduced from the current one year to six months. 
The government believes this will significantly reduce storage costs. "For the Central Lost Property Service Vienna alone, an annual saving of approximately €47,000 can be expected", said Justice Minister Alma Zadic (Greens). 
According to the experience of the lost property offices, slightly more than one-third of all lost property is claimed by the owners, the vast majority within six months. Only about 0.4 percent of lost objects are reclaimed from the seventh month after the loss. 
Around two-thirds of all lost property must therefore be stored for a year before they can be recycled, which entails considerable storage costs for the lost property offices.
Austria is still against Schengen expansion
Austrian Chancellor Karl Nehammer said on Monday that because of his country's concerns about illegal migration, he opposed the expansion of the European Union's visa-free Schengen area.
Nehammer travelled to Bulgaria invited by Bulgarian President Rumen Radev. The two leaders visited Bulgaria's border with Turkey, where the Austrian chancellor welcomed Sofia's efforts to strengthen its border because "protecting the Bulgarian-Turkish border is also protecting Austria's borders".
Nehammer said Austria supported the request of the Bulgarian government for €2 billion in EU funding to buy helicopters, all-terrain vehicles and other technical equipment to improve border infrastructure.
READ ALSO: 'A stupid prank'?: Why has Austria vetoed enlargement of Schengen area?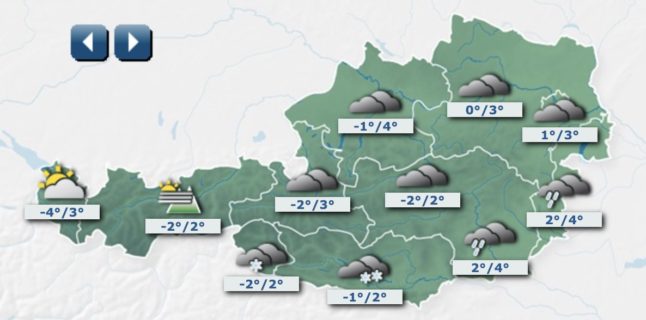 In the west of Austria, there is an interplay of dense clouds and sunny spells, Austria's meteorologic institute ZAMG said. Further east and south, on the other hand, a deep and thick layer of clouds hang over the country. 
Especially south of the main ridge of the Alps and in southern Styria and southern Burgenland, it rains and frequently snows with a snow line between 400 and 900m above sea level. 
From Upper Austria eastwards, however, it will remain dry until the evening, apart from light drizzle. From minus 5C to plus 3C in the morning, the temperature rises to 0C to 7C during the day.
If you have any questions about life in Austria, ideas for articles or news tips for The Local, please get in touch with us at [email protected].
See Also