EXPLAINED: How does the Vienna parking system work?
The Austrian capital Vienna has a world-famous public transport system and really incentivises residents and visitors to use it. If you want to drive, you'll have to pay for public parking.
Vienna's public parking system may seem confusing until you get used to it, and it is not rare for recent residents or visitors to end up with a parking ticket. This is because the Austrian capital has a parking permit system that covers the whole city, meaning that if you want to park your car on a public street,  you will have to pay. 
Besides that, certain streets are off-limits for parking altogether or reserved for residents with a special permit. So, you need to watch out for road signs and always check twice before leaving your car - especially if you find a parking space near a busy tourist street. If it's too good to be true, it may as well be. 
READ ALSO: How Vienna plans to expand its tram and park & ride systems for commuters
Short-term parking zones and residents' parking permits are valid in Vienna's districts, meaning that in the entire city, parking a car is only possible with either a resident's parking permit (Parkpickerl) or a ticket (Parkschein) for the short-term zones.
Single-track vehicles like mopeds and motorcycles are exempt from the short-stay parking zone regulation.
Resident's permit (Parkpickerl)
If you have your primary registered residence (Hauptwohnsitz) in Vienna, you will still be able to park in your home district for a low cost.
You need to apply for your resident's parking permit (Parkpickerl), which you can do either online or by making an appointment at your municipal office (Magistrat). This might take around one week, according to city authorities.
The sticker costs €10 per month and will be the same in whichever district you live in. You can buy it for between four and 24 months at a time.

When you first apply, you also need to pay a one-off admin fee: of €35.70 if you register in person and €30.70 if you apply online using a HandySignatur. With a resident's permit, there is no limit for how long you can park your car in your district, but you are also not allowed to park on shopping streets - even if you live nearby.
READ ALSO: Five underrated towns you can visit in a day from Vienna
Other permits (Parkschein)
If you park your car outside your district (or don't have a Parkpickerl), then you need a specific ticket to park your vehicle on almost all Vienna streets.
However, you only have to pay from Monday to Friday (weekdays) from 9 am to 10 pm. So, parking is still free at night, on holidays and weekends. However, during weekdays and the specified times, you can only park your car for a maximum of two hours. 
Motorists can pay for their Parkschein with several tools. First, there is the classic paper Parkschein you buy at Tabak stores, gas stations, cigarette machines, post offices and several points of sale in Austria. Each colour allows you to park for a specific amount of time. For example, if you get a blue Parkschein,  you can park for 60 minutes.
Perhaps the easiest way to pay the fee is by using the official Handyparking app. You will need a smartphone to download and register for the app. You can find it at the App Store and Google Play.
The application is intuitive; you only need to top up your parking credit, select the city and licence plate number, and book duration in the app. Handyparking is also particularly useful as it shows a city map, so you can check the specific regulations (if any) of the place where you want to park.
READ ALSO: What you need to know about parking in Austria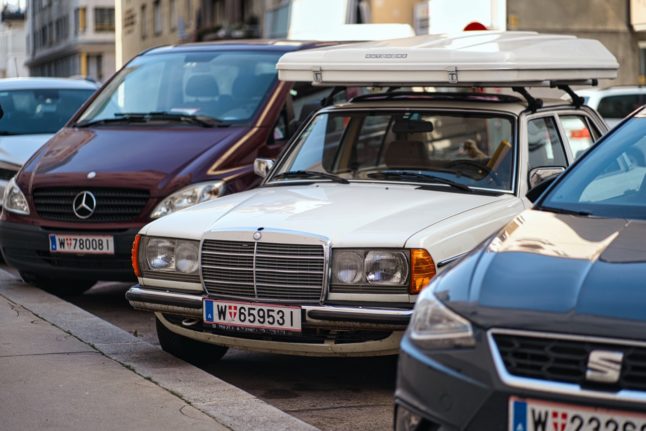 What are the prices?
From January 1st, 2023, prices were increased in Vienna. Now they are:
Parking time 15 minutes (parking ticket purple): Free of charge

30 minutes (parking ticket red): €1.25 

60 minutes (parking ticket blue): €2.50 

90 minutes (parking ticket green): €3.75 

120 minutes (parking ticket yellow): €5 
READ ALSO: Water, waste collection, parking: How Vienna will get more expensive in 2023
Exceptions
There are very few exceptions to the rules, including in some sparsely populated areas on the city's outskirts where you do not have to pay for parking, or there are different time regulations. 
Some streets are reserved for district residents only, and traffic signs mark them. Businesses, social services and small transporters might also apply for different permits. Vehicles with a parking permit for the disabled are also exempt from the restrictions.
Vienna has several e-charging stations with strict rules on parking. The area in front of the stations is a no-parking zone except for electric vehicles during charging - once the car is charged, you must leave the electric charging zone with it. 
You can read more about the exceptions HERE. To read more about business streets, you can check HERE.
Useful vocabulary
Halten/anhalten – stopping
Parken – parking
Ladetätigkeit – loading
Halteverbote – stopping forbidden
Parkverbote – parking forbidden
Parkpickerl Zonen – residents' parking zones
Behindertenparkplatz – disabled parking space
Einfahrten – driveways
Kurzparkzone – short term parking
Kurzparkgebühr – short term parking fee 
Abschleppung/Abschleppen – towing (of cars).
Private Parkplätze – private parking.
Anwohnerparken – Residents' parking
See Also