Today in Austria: A roundup of the latest news on Wednesday
Covid-19 is here to stay, Health Minister says, Austria's surprising Oscar nomination, Chamber of Labour criticises social assistance as too low and more news from Austria on Wednesday.
Covid-19 is here to stay, Health Minister says
Health Minister Johannes Rauch (Greens) warns against misunderstanding the end of all Corona laws he announced by the middle of the year. 
"Corona is here to stay," said the head of the department in an APA interview. He also called for people to get their Covid booster vaccinations and for vulnerable people to remain protected. 
"It is wrongly written that 'the minister will end the pandemic' with the stroke of a pen. That is not the case," Rauch said of his announcement last weekend that he intends to abolish all laws and regulations affecting Corona in the first half of 2023.
At the same time, he stressed that it was a matter of dealing with the situation: no longer in crisis mode.
READ ALSO: Austria to ditch all Covid-19 laws this year: health minister
IN PICTURES: The best places to see snow in and around Vienna
If you are looking for snow in Austria, Vienna is not the first place you should go, but when it snows, the capital can look absolutely beautiful. Here's where to go to get the best views.
Woman discovered in a cellar in Mürzzuschlag
A 34-year-old woman was found on Tuesday in Mürzzuschlag (district of Bruck-Mürzzuschlag) with fatal injuries in the basement of an apartment building, the newspaper Die Presse reported.
According to the Styrian regional police directorate, the woman had previously been in a fight with a man who has since been arrested on suspicion of murder.
Witnesses of the fight alerted the emergency services. When they arrived on the scene at around 4:30 p.m., they found the seriously injured woman. Despite immediately initiated rescue measures by the emergency physician, she died shortly after their arrival.
Austria at the Oscar nominations
Austria's Corsage, a film about the more rebellious years of empress Elizabeth, failed to secure a nomination, though it was on a shortlist for the best foreign-language movie. The film has been surrounded by controversy ever since actor Florian Teichtmeister, who plays emperor Franz Joseph, was charged with possessing files of sexual abuse of minors.
However, the Oscar nominations brought one pleasant surprise to the country. Innsbruck's editor Monika Willi was nominated for the editing of the film "Tár". "I am speechless. I didn't expect this," she told the website Kurier.
"Tar" by Todd Field, which was nominated seven times, tells the story of a fictional chief conductor of the Berlin Philharmonic Orchestra.
READ ALSO: Austrian film 'Corsage' under shadow of actor's child pornography trial
Chamber of Labour criticises social assistance as too low
The Chamber of Labor (AK) criticised Austrian social assistance as being too low, and the procedure leading up to approval as being too lengthy and complicated.
For 2023, the maximum amount of social assistance for a healthy person is €1,053 net. "However, the poverty threshold was already in 2021 - before the inflation wave - at €1,371 and thus significantly higher," said Paul Reichl, president of the Vienna Social Counseling Service.
In principle, any person in an emergency (for example, someone with no or too little income) can receive social assistance. In Vienna, this is currently about 130,000 people, according to Reichl. 
The requirements for this have been regulated since 2019 in the "Basic Social Assistance Act". "However, instead of defining minimum rates for a decent life, the Turquoise-Blue government created maximum rates at that time, which the provinces are not allowed to exceed," Reichl criticised.
He added that getting the support is also not easy, with many people not even applying due to the bureaucratic hurdles and language barriers.
READ ALSO: 'Inhuman speech': Austria's far-right blasted for wanting to tie social benefits to German skills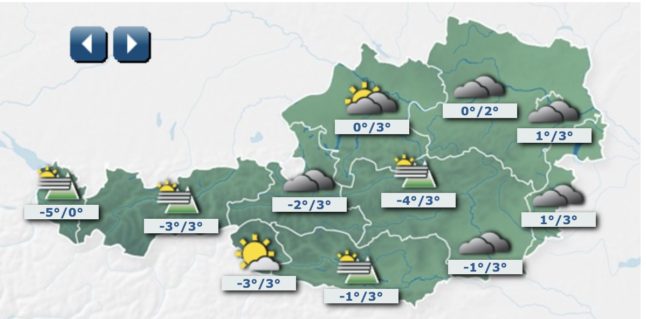 Low, foggy clouds will persist in the north and east, where there may be drizzle or snow from time to time. Otherwise, especially in the mountains and in the west, the sun will shine for the most part. Afternoon temperatures are minus 1C to plus 5C, in the west with more sun, sometimes even warmer.
If you have any questions about life in Austria, ideas for articles or news tips for The Local, please get in touch with us at [email protected].
See Also