EXPLAINED: The new app helping people with recycling in Austria
Sorting out your household waste is not an easy task in Austria, but a new app promises to make recycling things much simpler. Here's what you need to know.
For more than half of the population in Austria, 2023 brought a change in waste collection, as The Local reported. 
But even if this makes waste separation easier, there is an increased need for information in the short term. Many people wonder which parts of the packaging should be separated before disposal? Does the yoghurt pot have to be washed out? Can the cat food be put in the yellow bag in my region? 
In order to answer these questions as simply and accurately as possible and at the same time increase motivation for the environmentally friendly action that is recycling, there is a new Austrian smartphone app that can make things easier - for free.
READ ALSO: EXPLAINED: The new rules about recycling household waste in Austria
Two local companies, Altstoff Recycling Austria and Saubermacher, have developed the Digi-Cycle app, available at the Google Play Store and Apple App Store.
Two steps to climate protection

The app is divided into two main areas: In the information area, where consumers can scan the barcode on a product and receive location-specific separation information on the individual components. It's also possible to view a map and check all waste disposal locations and which types of bins they have.
In the incentive area, consumers can participate in a reward program.
"Our goal is to make waste separation easier. Digi-Cycle shows the regionally valid instructions for correct separation and collection for each stored product. In addition, the location finder with over 10,000 entries supports finding the right collection point," said Digi-Cycle Managing Director Michaela Heigl.
READ ALSO: Water, waste collection, parking: How Vienna will get more expensive in 2023
Partners such as Coca-Cola HBC Austria, FELIX, Henkel, HOFER, Kelly, Lidl Austria, Lorenz, Nestlé, Recheis, SalzburgMilch, SPAR and Unilever support the recycling project by providing separation labels for their products.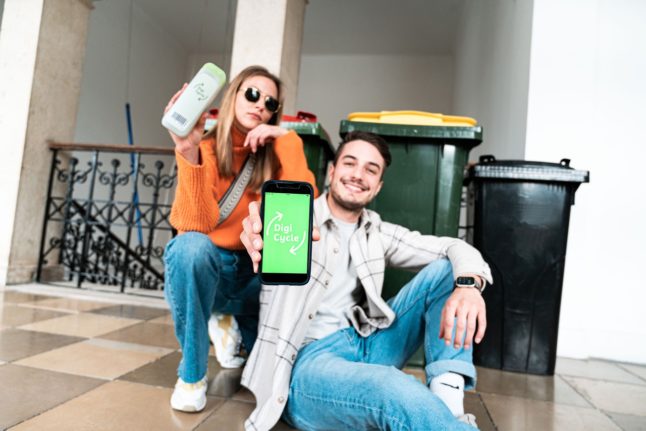 New app helps waste recycling in Austria (Copyright: Digi-Cycle / Philipp Zach)
In the incentive area, users are rewarded for correct waste recycling, for example, by answering a quiz or providing proof of the proper disposal of products.
Currently, there is a particular focus on re-use, and you can receive a voucher for WIDADO. In this new social online marketplace, people and businesses offer a wide range of second-hand goods.
READ ALSO: Why does Vienna's waste department have a helicopter and a military plane?
"Surveys have shown that younger people, in particular, often still need to improve their knowledge of recycling. With the app, we want to show not only how to recycle but also what happens to it afterwards and why proper waste separation makes sense," Digi-Cycle CEO Felix Badura said.
See Also