As temperatures near 40C in Vienna, people might be looking for areas where they can cool off, especially since not many apartments and houses in Austria are prepared to handle such scorching temperatures.
Vienna's Red Cross has set up a free "cooling centre" where people can enjoy a quiet climate-conditioned room to recover from the heat stress.
The centre is located inside the Shopping City Nord, in Vienna's 21st district, and it's open when heat days are expected. You can check the dates on their website, which is updated weekly.
READ ALSO: Heatwave in Austria: How hot is it getting this week and where?
Besides the cool air, people can find tables to sit and work, beach chairs to relax, and a water supply. In addition, the Red Cross has partnered with brands to offer a few "gifts" like a straw hat and a pamphlet with tips for hot days.
The establishment is free and everyone is welcome, particularly those who suffer from the heat the most, like older people and people with chronicle diseases.
People can also bring their pets, as long as they don't cause disturbances.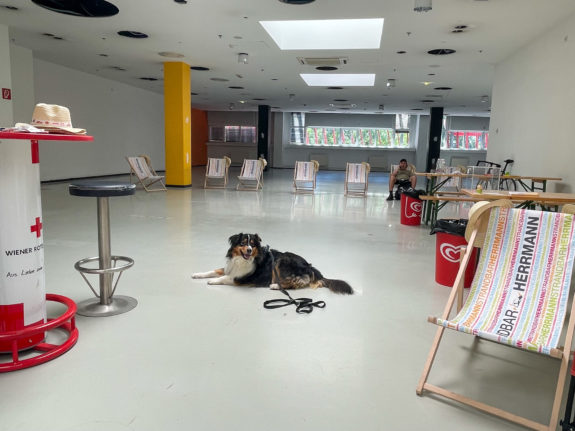 Pets are welcome in the cooling centre the Red Cross has set up in Vienna (Photo: Amanda Previdelli / The Local)
Tips for visiting the cooling centre
The Red Cross recommends that people suffering from extreme heat plan to stay at least two to three hours resting there – but adds that any other period of time is possible during opening hours (from 12 pm to 5 pm).
They recommend you take something to pass the time with, like a book, crossword or mobile phone – there are a few drawing books and crayons for kids.
People can also bring food and drinks (as long as they don't disturb other guests) and tap water is available.
Red Cross's tips for staying cool despite the heat
The Red Cross also has a brochure with tips for the heat days.
They include recommendations such as "drink lots of water even if you are not thirsty", ventilating your apartment, caring for other people (especially neighbours or family members that might be part of the risk group), avoiding being outdoors and freshening up your body with a cool (not cold) shower, for example.
READ ALSO: How to stay cool in Austria as the heatwave hits
The organisation also suggests people wear light and bright clothes, eat light and fresh meals, search for cool places to be and do not leave people or animals in parked cars.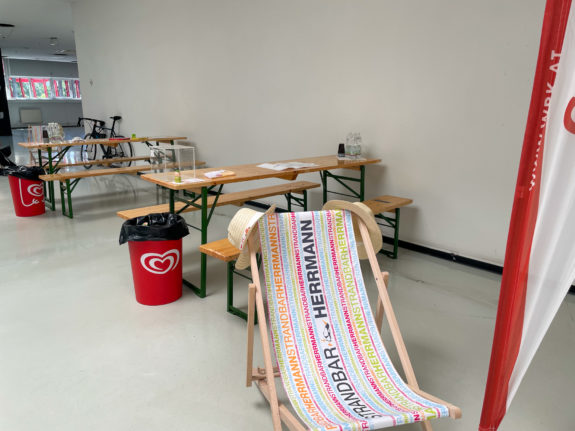 The cooling centre offers tap water, beach chairs, tables, and even some drawing books – but the Red Cross recommends people bring their own entertainment (Photo: Amanda Previdelli / The Local)
Other places to cool off in Vienna
Vienna has many places where you can cool off and spend some of the hottest hours. For example, many of its historical buildings with thick walls and made of stone (like most churches) can be very cool during the day even without air conditioning.
A word of caution, though: the beautiful St. Stephens Cathedral is a big exception to this rule, as it is usually packed with people, gets loads of hot sunlight, and its doors are always open, bringing hot air in.
READ ALSO: Heatwave: Nine of the coolest places in Austria
You can also visit some of the city's museums or cafes for some extra dose of culture and cake while the sun is blazing outside.
If things are too hot to handle, there is always the polar area in the Schönbrunn Zoo, where you can spend some quality time in (not quite) subzero temperatures with the penguins.
READ ALSO: Austrian heatwave: Six tips to get a better night's sleep