For members
Today in Austria: A roundup of the latest news on Friday
Every weekday, The Local brings you an English-language summary of the news you need to know in Austria.
Published: 21 January 2022 09:29 CET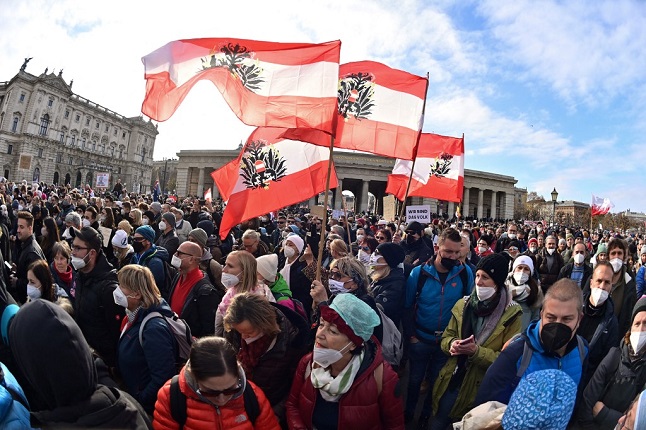 (FILES) In this file photo taken on November 20, 2021 demonstrators wave Austrian flags with the emblem turned upside down during a rally held by Austria's far-right Freedom Party FPOe against the measures taken to curb the coronavirus (Covid-19) pandemic, at Heldenplatz square in front of the Hofburg Palace in Vienna, Austria. - Austria's parliament on January 20, 2022 approved making Covid-19 vaccinations mandatory for adults from next month, becoming the first European country to do so despite a wave of protests opposing the measure. Tens of thousands have demonstrated against mandatory vaccination in regular weekend rallies since the measure was announced in November in a bid to drive up the country's vaccination rate. (Photo by Joe Klamar / AFP)
For members
Today in Austria: A roundup of the latest news on Thursday
Inflation at 7.2 percent, Austria tries to reduce dependence on Russian gas and more news on Thursday.
Published: 19 May 2022 09:06 CEST