Presented by escp europe
European careers: how you can make meaningful things happen
From AI to biotechnology, there's no doubting what an exciting age this is to be an engineer or a scientist. Some may view working in management as uninspiring by comparison.
Yet in all the breathless excitement of the 21st century, it's managers who provide the 'glue' to keep pioneering projects on track. We don't all want to be rocket scientists or vaccine researchers (and what a strange world it would be if we did!) but that doesn't mean you can't help build a better future. Could a career in management be the best way to have a real impact on the world?
The Local spoke with Professor Vanessa Strauss-Kahn, European Academic Director of the Bachelor in Management (BSc) at the prestigious ESCP Business School, to explore six reasons to choose management. As Europe's first business school, ESCP has been the training ground for generations of students preparing to enter the world of management.
Find out more about ESCP Business School 
You make meaningful things happen
Being a manager is about getting things done – no matter what chaos unfolds around you. A world without managers would be like an orchestra without a conductor or a football team without a coach, says Professor Strauss-Kahn. "It's true that we need scientists, engineers and tech developers more than ever," she says. "But then you also need managers more than ever to help them bring their discoveries to fruition. If you want to do good for society, your goal is to make things happen."
As well as learning how to make sure new products and services reach the market, management students today are also encouraged to use their own creativity for meaningful ends. One ESCP graduate, for instance, developed an innovative app enabling students to deliver smart feedback on their classes.
You bring the world together
If you live an international life or want to do so in future, managerial skills can open many doors. Whatever industries are dominant in a particular country, they all need managerial talent to make things run smoothly.
A good understanding of multiculturalism is also an essential skill for managers today, says Professor Strauss-Kahn: "Being able to deal and work with people from all over the world is vital, and that's new compared to 20 years ago." Could you be the leader to help, for example, a Brazilian programmer and a Japanese web designer combine to create something wonderful?
Students on ESCP's Bachelor in Management (BSc) have a thoroughly international experience, studying in three different European countries in three years (with campuses to choose from in Berlin, London, Madrid, Paris and Turin). 
"When they graduate, they're very mature," says Professor Strauss-Kahn. "They've left home, changed countries, and experienced new cultures. They have a high level of adaptability, which is a good sign for the future."
You're (almost) as cool as a coder
If you want to learn to code, management is the last thing you should study, right? Wrong! It's not by accident that ESCP's Bachelor in Management is a BSc, including a high level of focus on science, maths and statistics, while most of its rival courses are BAs. An introduction to coding is compulsory, with students getting to grips with Python.
"Coding is a language but it's very scary to people who have never done it," says Professor Strauss-Kahn. "Our students have the opportunity to study this language and learn to understand its mechanisms. This gives them a sense of achievement that will lead them to view many other seemingly inaccessible skills as also within their reach."
Students who enjoy the course may also choose an elective course on Big Data in their final year.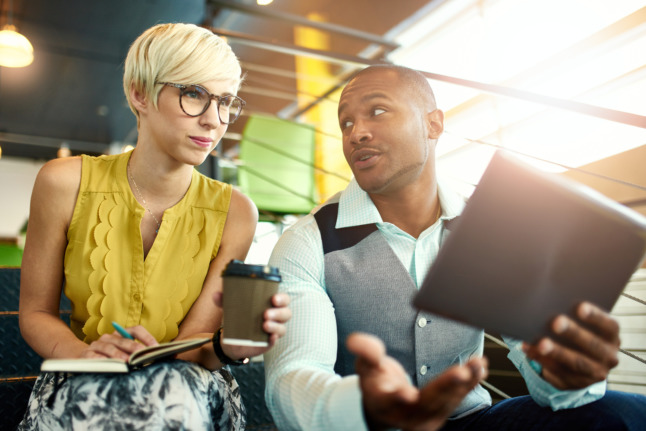 You learn about everything
Does the word 'management' call to mind endless meetings and even more endless email chains? There's much more to it than that. As the digital world makes it easier than ever to learn a little about a lot, businesses are moving away from siloed thinking.
"The young generation have a broader view of the world and they want to be involved in understanding everything," says Professor Strauss-Kahn. "In the past, jobs were more defined within a range of functions and you went for one function. Today, it's about being able to switch from being a manager to understanding other sides of the project, whether it's producing goods or what the tech developer does."
This need for broader perspectives is why ESCP's BSc balances its scientific teachings with deep learning in other areas, including typical BA elements (liberal arts and languages) and Bachelor of Business Administration (BBA) elements.
You can easily change path
New career possibilities are constantly emerging. People eager to explore their options value flexibility, transferable skills, and the resourcefulness of entrepreneurs. If you think studying management means putting all your eggs in one basket, you're wrong again. It can give you an enviable number of transferable skills and students on ESCP's BSc do a minimum of two courses on entrepreneurship. 
Around half the BSc students go on to do a Master's, says Professor Strauss-Kahn, choosing a "very diverse" range of further studies. "They may go for finance or accounting, which are the usual further studies for managers," she says. "But they may also do a Master's in Big Data, in law, in politics or international relations, in economics or development." 
You'll have no frontiers
What if you do wish to stick with plan A and find a managerial job? Not only will you be ready to make things happen in an exciting international environment, you could also soon find yourself at one of the world's biggest companies.
Amazon, Bank of America, Bloomberg, KPMG, McKinsey & Company, Porsche – these are just some of the big names to have recruited recent graduates from ESCP's Bachelor in Management (BSc).
Graduates are also working in many countries, in Europe, Asia, and North America. "They're so used to living internationally that when they look for job opportunities they have no frontiers," says Professor Strauss-Kahn.
Interested in a high-level international career in management? Find out more about ESCP and download the brochure for its Bachelor in Management (BSc) 
This content was paid for by an advertiser and produced by The Local's Creative Studio.
See Also