What has happened in Tyrol? 
The Austrian government has declared state of Tyrol as a "restricted zone" due to the spread of the South African coronavirus mutation. 
From Friday, February 12th, nobody will be allowed to leave the state without a negative test. 
READ MORE: Austria imposes statewide isolation order in Tyrol due to coronavirus variant 
The measure will be in place for ten days, although it can be extended. 
How will the order be enforced? 
According to Austrian media, "one of the largest police operations in recent years is underway" as a result of the declaration. 
Police will monitor the Tyrolean border with other Austrian states as well as neighbouring countries Germany and Italy. 
The Austrian armed forces have also been called in. An estimated combined force of more than 1,000 police and military forces are expected to monitor the state's borders. 
Police on Thursday appealed to the public to avoid unnecessary travel and to ensure all their documents are in order. 
"The police are once again confronted with a new major challenge that we can only master with the support of everyone," Tyrol State Police Director Edelbert Kohler said. 
"Help us and, above all, yourself to avoid inconvenience, long waiting times and traffic jams, and take care of a test confirmation in good time if you have to leave the state."
Does it apply to the entire state? 
No – it only applies to the geographically connected areas of Tyrol. 
As a result East Tyrol, the exclave Jungholz in Ausserfern and Vomp-Hinterriß – which can only be reached via Germany – are exempt from the obligation to test.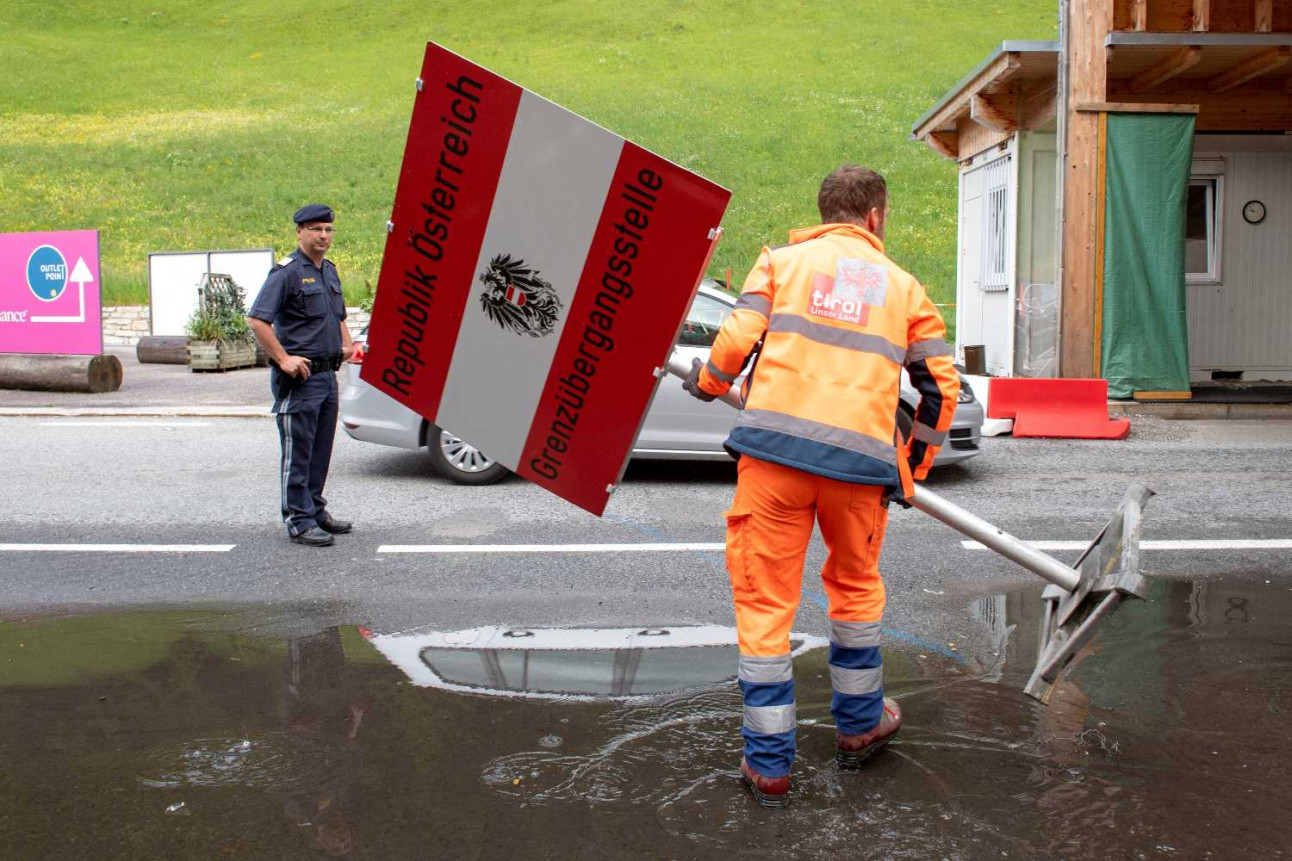 Photo: Joe Klamar/AFP
What are the rules for entering and leaving?
The requirement for a negative test result not older than 48 hours old to leave Tyrol will be in force for 10 days, Kurz said.
"We must do all we can to prevent or at least slow down the spread of the (South African) variant," he said.
Tyrol has seen more than 400 cases of the South African variant of the coronavirus. 
Interior Minister Karl Nehammer said fines of up to €1,450 ($1,750) could be levied on those not complying with the test requirement.
Travel from East Tyrol, which is not contiguous with the rest of the region, is exempt from the test requirement.
Kurz said the variant presented an "enormous challenge" because currently available vaccines are less effective against it.
Kurz's government, and regional authorities in Tyrol, have come under criticism for not reacting swiftly enough to the spread of the South African variant.
Everyone crossing the border – regardless of mode of transport – must wear an FFP2 mask, even if they are in their car alone. 
Are there any exceptions? 
Cross-border commuters will also need to provide a negative test. 
People who transit through Tyrol do not need to provide a test, but they will be issued with an official transit confirmation upon entering the state which must be presented upon departure. 
Oh no – I'm reading this as I'm pulling up to the border right now. Will I get a fine? 
There are testing centres at some border crossings. 
At Waidring, Hochfilzen and at Pass Thurn on the border with Salzburg and in Pettneu, you will be able to get a test done if you haven't already. 
However you are strongly encouraged to get a test before travelling. 
This will also be quicker as you will have to wait at the border for your results if you are tested there. 
What was that about fines? 
If you try and leave without getting tested, you risk a €1,450 fine. 
More information is available at the following link. 
Austria: How much you'll be fined for leaving Tyrol without a test 
Why has Austria imposed the isolation order? 
The South African variant is believed to be more infectious than strains of the virus which have been recorded in Austria previously, while also being more resistant to vaccines. 
"The outbreak of the South African variant in Tyrol is the biggest currently known of in the European Union," Chancellor Sebastian Kurz told a press conference when announcing the measures. 
The majority of the cases are in the district of Schwaz, where a mass testing programme will now be carried out.
Tyrol has also come under the spotlight after reports emerged in recent weeks of scores of foreign skiers using loopholes in Austria's coronavirus rules to travel to the country's renowned ski resorts, many of them in Tyrol.
Austria's government allowed ski lifts to reopen just before Christmas, maintaining that outdoor sports posed little transmission risk.
Can Tyroleans go abroad? 
While travelling through Austria just got more difficult for the people of Tyrol, they are also restricted from international travel in some cases. 
Germany announced it will close its borders to people from Tyrol on Sunday, February 14th. 
Switzerland and Italy have not yet announced border closures, but said they are monitoring the situation closely. 
UPDATE: Germany to close borders with Austria's Tyrol and Czech regions
How did the variant get to Tyrol?
Tyrol is a long way from South Africa, leading many to question how the variant made it to the mountainous region and caused "Europe's largest outbreak". 
Austrian authorities are investigating possible leads, however. 
Initially, the finger was pointed at winter sports enthusiasts – although the government said this week there was no evidence to support that claim.
Another rumour which has been dismissed by the government is that golfers in Zillertal who took a private plane to play golf in South Africa have brought the mutation to Tyrol.
Tyrol Greens politician Gebi Mair blamed Germany for the outbreak, saying there was evidence that the mutation entered from southern Bavaria. 
Tyrol authorities said on Friday they have several 'promising leads' but that confirmation could not be issued yet.