NOTE: On Sunday, January 17th, Austria announced it would be extending the lockdown until February 7th. More information is available here. 
The Austrian government met on Friday January 15th, to consider how life will look in Austria after January 25th. 
While most of the measures are almost certain to be extended, some may be relaxed – including again allowing non-essential shops to open. 
UPDATED: What are the rules of Austria's coronavirus lockdown? 
The government is also considering following Bavaria's lead and tightening the mask requirement to include only FFP2 masks, reports Austria's Der Standard newspaper. 
More information is provided below. 
'Extremely volatile'
Austrian Chancellor Sebastian Kurz said on Friday that the situation was "extremely volatile" even though "the measures have of course shown their effect". 
It is a "massive challenge. We must therefore continue to proceed extremely cautiously so as not to destroy what we have earned.". 
Currently, there are around 2,000 new infections detected each day, with the seven-day incidence around 150 per 100,000 residents.
Non-essential shops
One item on the agenda is to pursue a 'careful easing' of the trade restrictions that are currently in place. 
Currently, only supermarkets, pharmacies and a limited assortment of other shops are allowed to remain open. 
Der Standard reports that the Austrian government is considering allowing other stores to again open. 
FFP2 masks
Earlier in the week, Austrian Health Minister Rudolf Anschober suggested that the government was considering following Bavaria's lead and requiring FFP2 masks in public transport and in shops and supermarkets. 
FFP2 masks offer better protection against the spread of the coronavirus than cloth masks or standard medical masks. 
Austrian authorities have acknowledged that this will involve an additional cost to people, but said it may be worth it to again allow sections of the economy to reopen. 
Authorities have also promised that there will be no issues with supply of the FFP2 masks.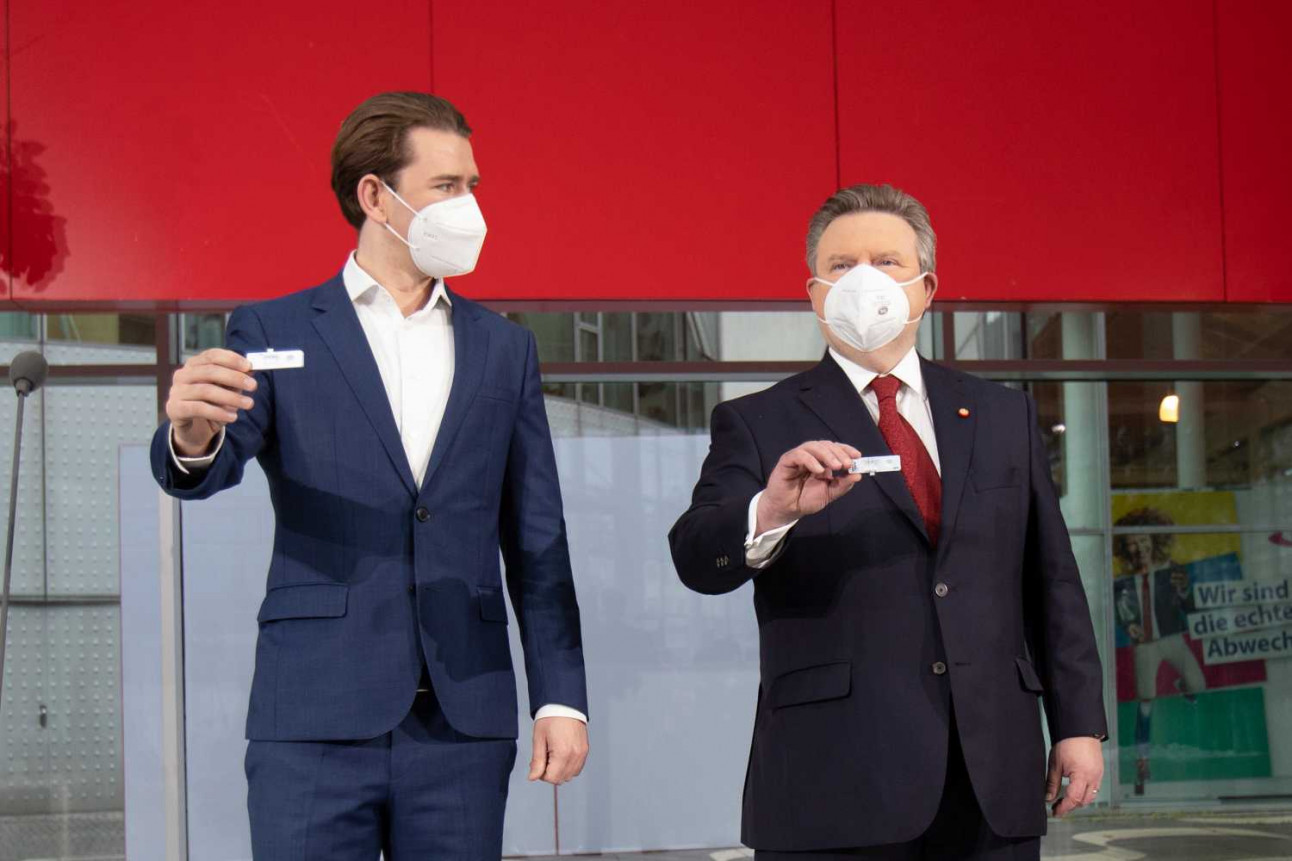 Austrian Chancellor Sebastian Kurz (L) and Vienna's mayor Michael Ludwig hold coronavirus antigen tests. Photo: ALEX HALADA / AFP
Distance – is Austria saying goodbye to the baby elephant? 
Since the start of the pandemic, Austrians have been told to stay 'a baby elephant' – i.e. one metre – away from each other to keep distance in order to halt the spread of the virus. 
'Baby elephant': Austria announces 2020's word of the year 
Austria's government is however now considering whether to extend the applicable distance requirement from one metre to a longer distance, such as the 1.5 metres adopted in neighbouring Germany. 
A decision to extend the current distance could mean Austria waves goodbye to the baby elephant – or simply that the baby elephant is growing up (just a little). 
READ: Austria Post produces 'three-ply toilet paper stamps' to promote social distancing 
Hotels
The Austrian government will consider allowing hotels to open again from January 25th, although personal treatment services like wellness and spas are expected to remain shut well into the year. 
Schools
As reported on Wednesday, Austria's schools are set to reopen on January 25th. 
The government is not expected to divert from this plan, although the specific details of how schools will go back – including how the expected 'split shifts' with half of the students required to attend – will be nutted out. 
READ ALSO: Coronavirus: Thousands of anti-lockdown protesters rally in Vienna