ANALYSIS: Has Austria picked the right strategy to fight the Covid-19 pandemic?
With compulsory testing scrapped, Austria is placing its hopes for ending the country's third lockdown on so-called "entry tests" but is it the right way forward? Austrian journalist Stefan Haderer analyses the strategy's effectiveness.
After almost three months in its third shutdown and despite numbers of COVID-19 infections remaining high, Austria's government aims to open all shops and restaurants again on January 24th. 
Amid growing discontent with the slow vaccine rollout in the country, Chancellor Sebastian Kurz and Health Minister Rudolf Anschober have announced improvements to the vaccination campaign. 
The Health Ministry also plans to have more than half a million employees tested on a regular basis. 
Austria adopts 'entry tests' to end coronavirus lockdown 
In contrast to other EU members such as Germany, Austria is pursuing a much more severe and persistent testing strategy. 
An enhanced coronavirus testing strategy is the number one horse Austria has been betting on over the past few months – much to the dismay of an increasing array of critics.
The second round of mass testing in Vienna started on January 8th. 
Initially, Austria planned on a compulsory "free testing" scheme, which would require everyone to get tested in order to leave lockdown. 
With the "free testing" scheme being rejected by the opposition, the government is replacing it with so-called "entrance testing" this coming Thursday.
EXPLAINED: Why did Austria scrap its compulsory coronavirus testing plan? 
Pursuant to the scheme, testing will be obligatory before checking into a hotel or attending a performance at the opera or theatre.
While media reports have suggested this shall also include cafés, restaurants and shopping malls, this remains to be seen.
Is 'entry testing' the right way to go?
The initiative was initially applauded by politicians and the industry. 
Recently, however, it has sparked criticism.
Large parts of the population and experts from diverse backgrounds have expressed scepticism about the effectiveness of rapid testing for a number of reasons.
A rapid coronavirus test (when compared to an accurate but costlier molecular PCR test) is nothing but a "snapshot", virologists, doctors and experts emphasise.
This is why in some interviews on ORF, the Austrian broadcasting programme, scientists are concerned about the path the nation's leaders are obstinately following.
READ MORE: How can I get vaccinated for Covid-19 in Austria? 
There's a severe accuracy issue with rapid testing as well.
"The accuracy depends on the way of testing and on the patient," a doctor I talked to points out.
"Some nasal swab tests may be 70% accurate while even more throat swabs have frequently turned out to be false-positive or false-negative. Apart from this, there's a risk of injuring people when they get tested by unprofessional staff."
The advantage of rapid Corona testing is self-evident: A person with an infection can easily be identified and prevented from spreading the virus.
The measure is applied on an international scale, at airports and borders, but also in medical institutions and retirement homes.
Medical experts differentiate between qualitative and quantitative testing, the latter being fervently promoted by the government along with some opposition members and industry partners as an alternative to shutdowns.
Specific qualitative testing in homes and health institutions is still insufficient, the opposition argues.
Quantitative "mass testing" in Austria is based on similar experiments in Slovakia and South Tyrol. There the percentage of participants was much higher but the effectiveness rather low.
Rapid testing is provided for free at centres and "testing streets" by non-medical assisting personnel like Bundesheer soldiers.
While participants describe the procedure as "non-bureaucratic" and "uncomplicated", others claim they felt stressed by the staff and often left with a slightly bleeding nose instead of a tickle.
The way of testing differs in Austria, depending on the location in the provinces. Some testers prefer extraction via nasal swabs, others rely on throat swab samples.
School children have been tested for coronavirus with gargle tests. Now even the smaller ones will be required to perform nasal-swab tests on themselves once a week, which still bears the risk of self-injury or not testing properly.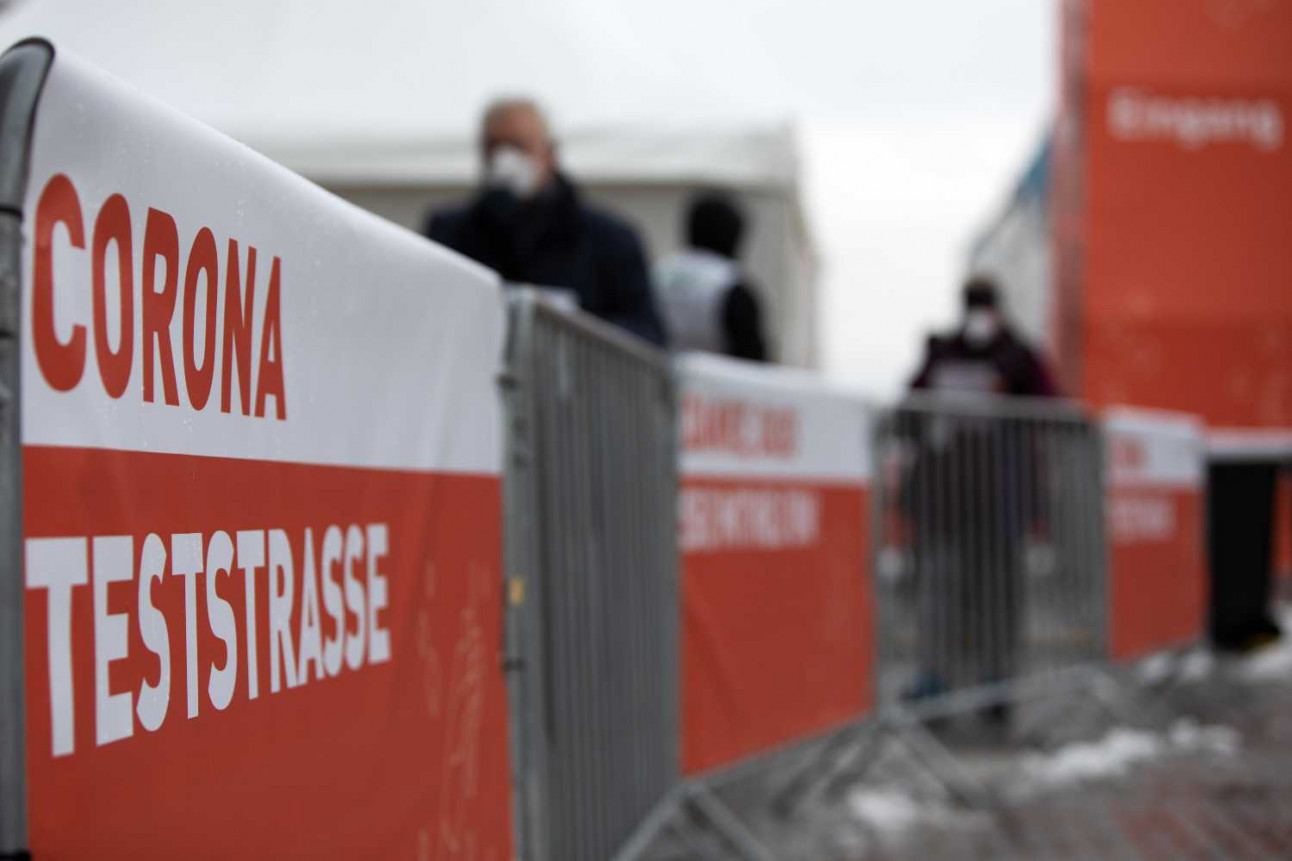 A coronavirus testing centre in Vienna. Photo: ALEX HALADA / AFP
Austrians are beginning to question the government's vehement testing strategy.
For many it seems like a vicious circle: Quantitative testing does help with detecting more COVID-19 cases, especially among asymptomatic persons, and makes sense before travelling or attending an event.
But in their opinion it definitely won't decrease infection growth rates or prevent further lockdowns. Some experts think that antibody tests would be way more helpful and evidential than "snapshots".
Antibodies in the blood do not guarantee immunity to the virus and may quickly decrease.
Others consider a decent vaccination strategy and developing anti-Corona medication much more vital in order to truly overcome this crisis.
Is it time for a new strategy?
"Testing, testing, testing" has become a political credo which many people have stopped taking seriously.
A caricature of the Austrian Chancellor, Vice-Chancellor, Health Minister and Interior Minister almost became viral on Twitter.
Dressed up in funny "Backstreet Boys" outfits the cartoon is titled "Test Street Boys".
Has the Austrian government lost both control and an efficient strategy in their fight against Corona? A rising number of health experts, scientists and lawyers think so.
Austrian political leaders are losing credibility, they say, with measures contradicting medical expertise and violating constitutional fundamental rights.
Economic partners like the WKO (Austrian Economic Chambers) embrace the new testing strategy as they consider it "the only way out" of ongoing lockdowns.
In the past the Chambers approved of compulsory guest registration in restaurants and cafés in order to prevent earlier closing hours.
Nevertheless, contact tracing failed and a third shutdown in Austria became inevitable.
The fear of a fourth lockdown before Easter and its detrimental impact on the Austrian economy remains incredibly real among the population.
Making people immune to the coronavirus with approved vaccinations and medication should therefore be a top priority.
Focusing on an erroneous quantitative testing strategy, on the other hand, could prove to be a lost bet – at high costs.
See Also